The McGill Triathlon Club welcomes everyone!
Registration through McGill Client Services is on pause.
Register in person at McGill Client Services at the McGill Sports Complex (475 Pine Ave W) (reservation only, online is much easier)
Register online on the McGill Athletics Website. If you have any problems signing up online, try a different browser or visit the Client Services.
You must be at least 18 years old to join MTC.
The club has a limited capacity, so register early!
Registration Fees Winter 2022:
Information coming soon
Registration Fees Fall 2021:
McGill Students

Core Membership (Virtual): $80.00+tax
Full Membership: $115.00+tax

Non-Students

Core Membership (Virtual): $90.00+tax
Full Membership: $130.00+tax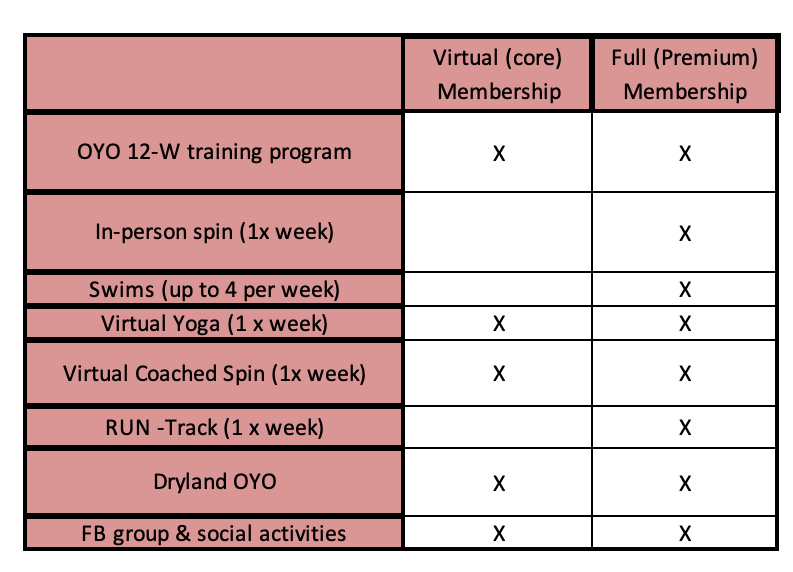 Please note that the non-McGill student fee includes access to the McGill Sports Complex's locker room and showers during scheduled club workouts only. Access during non-training hours to the McGill Sports Complex facilities and/or the Fitness Centre is not included and must be purchased separately.
MTC offers two registration options: the Core and Premium memberships.
Core Membership: These core workouts are on a fixed schedule. This membership does not allow access to premium workouts.
Premium Membership: The Premium membership consists of the same core workouts plus additional ones. These extra workouts are often less crowded and offer more 1-on-1 time with coaches.
How to decide between the two memberships:
The core membership allows us to offer a lower registration price. This is ideal for those who want to discover the world of triathlon and who just want to keep in shape during the season.
The fixed schedule allows our training program to be tailored around the core workouts. This will maximize the benefits of the training. However, if your schedule requires flexibility in your workout times, the full membership definitely suits your needs better, since you can have access to all workouts.
Registration Fees winter 2020:
McGill Students (and non-students with a McGill gym membership)

Basic Membership: $141.22+tax
Full Membership: $207.12+tax

Non-Students

Basic Membership: $183.59+tax
Full Membership: $269.26+tax
Registration Fees summer 2020:
McGill Students (and non-students with a McGill gym membership)

Basic Membership: $141.22+tax
Full Membership: $207.12+tax

Non-Students

Basic Membership: $183.59+tax
Full Membership: $269.26+tax
Registration Fees fall 2020:
McGill Students (and non-students with a McGill gym membership)

Basic Membership: $123.57+tax
Full Membership: $181.23+tax

Non-Students

Basic Membership: $160.64+tax
Full Membership: $235.60+tax